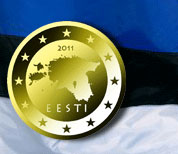 The ECOFIN Council took the final decisions on the euro adoption in Estonia and confirmed that Estonia is ready and will adopt the euro on 1 January 2011.
This decision culminates an approval process that began on 12 May with the adoption of the 2010 Convergence Report, in which the Commission concluded that Estonia fulfils all the necessary conditions to join the euro.
The Council, meeting in its configuration of finance ministers (ECOFIN Council), also set the conversion rate at 15.6466 Estonian kroonid to one euro, which corresponds to the current central rate of the kroon in the EU exchange mechanism (ERM II).
Euro festivities welcoming Estonia
In a ceremony in the Berlaymont building following the ECOFIN decision, Commissioner Rehn, the Estonian Finance Minister Jürgen Ligi, the ECB represented by Frank Moss, Director, and other guests will assemble around a Euro map to add a euro button for Estonia.